Packaging Aluminum Sulfate
In a prior post we spoke about how to provide safe storage for aluminum sulfate. Packaging alum for transport requires many of the same procedures and protocols to ensure it is delivered safely to its destination. It's also important to prevent environmental contamination (more about this in a future post), safeguard those handling alum, and protect chemical integrity.
Alum can be stored in several ways. Since it is corrosive to metals in the presence of water or moisture, it should be stored in either:
The original container
A corrosive resistant container
A container with a corrosive-resistant liner
Regardless of which method is chosen, the containers should be waterproofed since aluminum sulfate reacts with water. The chemical should be well ventilated and protected from direct sunlight as well as from extremely high or low temperatures. Containers should also shield alum from contact with other reactive materials. Alum reacts with strong bases (sodium hydroxide or potassium hydroxide), ammonia, and amines. (1,5)
Transporting Aluminum Sulfate
There are specific protocols for transporting alum to protect those handing it as well as the environment, especially when it comes to preventing and managing spills. Here is information from the Safety Data Sheet:
U.S. DOT
PROPER SHIPPING NAME: Environmentally hazardous substance, liquid, N.O.S. (Contains Aluminum Sulfate)
| | | | |
| --- | --- | --- | --- |
| HAZARD CLASS | UN ID NUMBER | GROUP | RQ (lbs)  |
| 9 | UN3082 | PG III | 10,300 |
Hazard Class: Classifies the type of hazard the chemical poses. In this case, a 9 refers to miscellaneous, or miscellaneous hazardous materials. Others include explosives, gases, flammable, etc. (2)
UN ID Number:  A 4 digit number used to identify hazardous goods, substances, and articles. UN3082 refers to environmentally hazardous substances, liquid, N.O.S. (3)
Group: One of three groups in which hazardous materials are assigned based on degree of danger. This helps to determine the degree of packaging required. A PG III (Packing Group III) is classified as low danger. (4)
RQ: The reportable quantity which is the amount of hazardous substance that has to be released into the environment before the EPA requires notification of the release to the National Response Center. In this case, it would require 10,300 pounds.
Transport Equipment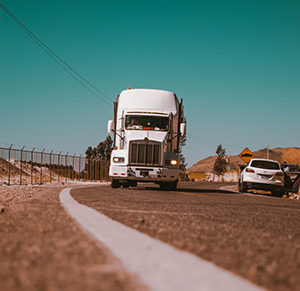 The transport vehicle should be equipped with both non-emergency protective equipment for safe handling and emergency equipment in the event of an accidental release.
Safe Handling
For safe handling, personnel should adhere to good industrial hygiene and safety procedures such as wearing chemical resistant gloves, masks, and clothing protection. Protective clothing should be made from materials which cannot be permeated or degraded by alum. Safety equipment manufacturers recommend Nitrile and Natural Rubber for gloves, and Tyvek, or the equivalent, as a protective clothing material. All protective clothing should be clean, available each day, and put on before work.  Personnel should also use good housekeeping practices during storage, transfer, and handling, to avoid excessive dust accumulation and protect from moisture. (1)
Spill Management
In the event of accidental release, the transport vehicle should be equipped with tools which allow the following steps to occur:
Evacuate personnel and secure and control entrance to the area
Eliminate all ignition sources
Collect powdered material in the most convenient and safe manner and place into sealed containers for disposal
Ventilate and wash area after clean-up is complete.
DO NOT wash into sewer.
It may be necessary to contain and dispose of aluminum sulfate as a HAZARDOUS WASTE. Contact your state Department of Environmental Protection (DEP) or your  regional office of the federal Environmental Protection Agency (EPA) for specific recommendations. (1)
Want to work with a reliable company which has high standards for safe packaging and transport of materials? Contact Affinity Chemical today!
References