Packaging Ferrous Sulfate
In a prior post we spoke about how to provide safe storage for ferrous sulfate. Packaging this chemical for transport in the proper way is key to ensuring its safe delivery for all parties involved: transporters and handlers. While traveling with ferrous sulfate, you should consider preventing environmental contamination, safeguarding those traveling with the chemical, and protecting its integrity. Acceptable containers include:
The original container
A corrosive resistant container
A container with a corrosive-resistant liner
Since it is corrosive to carbon steel it should NOT be stored in containers made from this material.
Regardless of the storage container chosen, the chemical storage area should be well ventilated, away from water, and protected from direct sunlight as well as from extremely high or low temperatures. Moreover, containers should also shield the chemical from contact with other reactive materials. For example, ferrous sulfate reacts with hypochlorite, which could lead to the evolution of poisonous chlorine gas. It may also react violently or explosively on contact with arsenic trioxide, sodium nitrate, methyl isocyanoacetate, and strong bases such as sodium hydroxide and potassium hydroxide. (1, 5)
Transporting Ferrous Sulfate
There are specific protocols for transporting ferrous sulfate to protect those handing it as well as the environment, especially when it comes to preventing and managing spills. Here is key information from the Safety Data Sheet:
U.S. DOT
PROPER SHIPPING NAME: Corrosive liquid, Acidic, Inorganic, N.O.S. (contains Ferrous Sulfate).
| | | | |
| --- | --- | --- | --- |
| HAZARD CLASS | UN ID NUMBER | GROUP | RQ (lbs)  |
| 8 | UN3264 | PG III | 2,800 |
Hazard Class: Classifies the type of hazard the chemical poses. In this case, an 8 refers to Corrosives (Liquids And Solids). (2)
UN ID Number:  A 4 digit number used to identify hazardous goods, substances, and articles. UN3264 refers to corrosive liquid, acidic, inorganic, N.O.S. (3)
Group: One of three groups in which hazardous materials are assigned based on degree of danger. This helps determine the degree of packaging required. A PG III (Packing Group III), for instance, is classified as low danger. (4)
RQ: The reportable quantity which is the amount of hazardous substance that has to be released into the environment before the EPA requires notification of the release to the National Response Center. In this case, it would require 2,800 pounds.
Transport Equipment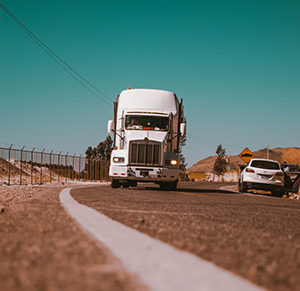 The transport vehicle should be equipped with both non-emergency protective equipment for safe handling and emergency equipment in the event of an accidental release.
Safe Handling
For safe handling, personnel should adhere to good industrial hygiene and safety procedures such as wearing chemical resistant gloves, masks, and clothing protection.
Handlers should also wear appropriate protective eyeglasses or chemical safety goggles, as described by OSHA's eye and face protection regulations in 29 CFR 1910.133 or European Standard EN166. (6) All protective clothing should be clean, available each day, and put on before work. Personnel should also use good housekeeping practices during storage, transfer, and handling to avoid spills and protect from moisture.
Spill Management
In the event of accidental release, the transport vehicle should be equipped with tools which allow the following steps to occur: (1)
Wear PPE appropriate during the time you are handling the material.
No smoking or eating in spill areas.
Absorb small spills with sand or vermiculite.
Place contaminated material in appropriate container for disposal.
If spilled on the ground, the affected area should be removed to a depth of 1 to 2 inches and subsequently placed in an appropriate container.
Handle large spills according to a predetermined plan.
Do not flush material to public sewer systems, or likewise, to any waterways.
Wear appropriate protective clothing and equipment during cleanup activities.
Ensure adequate decontamination of tools and equipment following cleanup.
When neutralizing spills or leaks, use adequate ventilation.
Looking for a safe and environmentally conscious ferrous sulfate supplier?
Want to work with a reliable company who has high standards for safe packaging as well as transport of materials like ferrous sulfate? Contact Affinity Chemical today!
References